Manarcad St. Mary's Jacobite Syrian Cathedral Church is 9 km away from Kottayam town in Kerala and it is well known for its annual 8 day lent of Virgin Mary that occurs from the 1st to 8th of September. The Manarcad Parish is one of the oldest ones in this area and has around more than 3000 families. The architecture of the Manarcad Church reminds us of the Orvieto Cathedral.
Apart from being a spiritual hub for the Christians in this area, the Church also has several schools, spiritual organizations and a hospital under its administration.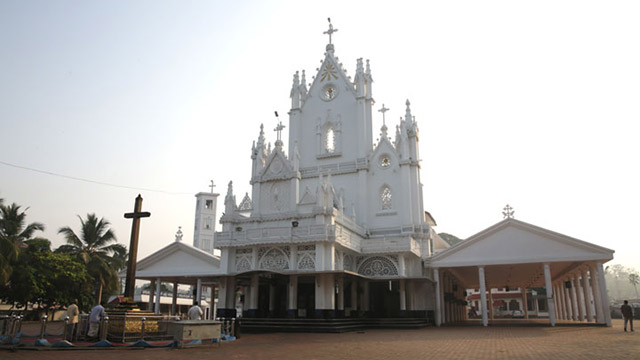 The Manarcad Jacobite Church is believed to have been built in the 16th century and land where the Church was built, belonged to the Devaswam. The construction of the Manarcad Church was completed by 1590 AD and it was rebuilt several times after that. The current construction of the Church was completed in the year 1954.
There are several feasts and festivals that take place at Manarcad Church and during these times, we can see a huge crowd of devotees rushing to the Church to seek blessings. People from different parts of the town, different religions, casts, and sects take part in the feasts and festivals. The major feasts and festivals of Manarcad St. Mary's Cathedral Church are:
15 January – The feast the invokes the blessings of the Virgin Mary on agricultural seeds
26 February – Sunero Feast
6 May – Commemoration of St. George
15 August – The Ascension Day of Virgin Mary
8 September – 8 Day Lent, Feast of the Virgin Mary's birth, known as Ettunombu Perunnal
The 8 day lent is the most important feast in the Manarcad Church and during this time and image of Jesus Christ and Virgin Mary is unveiled and attracts a lot of believers to the Church.
The Manarcad Church is also very much activie in its social activities and it has several schools and a hospital under its administration. Here are the schools and the hospital that comes under the Manarcad Church's administration:
St. Mary's CBSE School, Manarcad (established 1993)
St. Mary's Higher Secondary School (established 1949)
St. Mary's IT College (established 1978)
St. Mary's Nursing School (established 1976)
St. Mary's College (established 1981)
St Mary's Hospital
Apart from being a popular Christian pilgrim center in Kerala, the Manarcad Church is also a major center of attraction for the tourist coming from different parts of the world. The religious tourists coming from other parts of the globe try to get time to visit this shrine, learn about its historic significance and also explore its amazing architecture.
There are also various travel destinations near Manaracad Church and while visiting these travel vacation destinations, people also manage to visit this Church.
Address:
St.Mary's Jacobite Syrian Cathedral,
Manarcad P.O,
Kottayam,
Kerala , India
Phone Number: +91481 2372700
Email: manarcadstmaryschurch@gmail.com
Website: http://manarcadstmaryschurch.org/