Aruvikkuzhi Waterfalls, Kottayam
The Aruvikkuzhi waterfalls in the Kottayam district of Kerala is located 2 km away from Pallickathode village and is 7.5 km away from the town of Pampady. The Aruvikkuzhi waterfalls has a height of 30 feet and this waterfall is active only during the monsoon season, when there is heavy rain. The waterfall dries up during the summer due to lack of rain and other water sources.
What to See at  Aruvikkuzhi Waterfalls, Kottayam
The Aruvikkuzhi falls in Kottayam has an amazing natural beauty and the surrounding rubber plantations adds more to it. The Aruvikkuzhi waterfalls is considered to be one of the best place for picnic and the cool water falling from around 100 feet is sure to make you chilled.
If you visit this place, you can see a lot of families camping over here to enjoy their picnic trip. While you are on your picnic travel to Aruvikkuzhi, you will be easily able to sense how well you are bonded with the nature.
There will be a good amount of cool breeze and an amazing climate at the Aruvikkuzhi waterfalls in Kottayam. This is the main reason why this place has become a major local picnic spot in Kottayam.
The waterfalls and it surroundings has a lot in store for the nature lovers, as there is ample opportunities for sightseeing activities. The sight of the St. Mary's Church that stands on the top of the Aruvikkuzhi waterfalls is something worth watching.
You could also get involved in some mild trekking activities near the Aruvikkuzhi waterfalls, that will make you feel energized. The waterfalls and its surroundings are relatively safe and hence you need not have to worry too much.
Best Time to Visit Aruvikkuzi Falls, Kottayam
As with any other waterfall destinations in Kerala, the best time to visit the Aruvikkuzhi falls in Kottayam is between October to March, as there will be no rain and you will be able to enjoy the waterfalls at its best.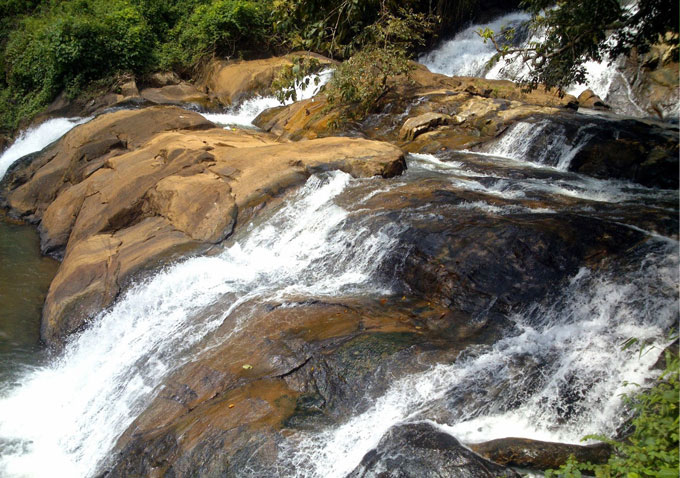 During the months between June to September, it will be raining heavily in Kerala. Hence, you will not be able to make a great picnic experience during that time. But if you are photographer or nature lover, you will be able to capture the beauty of Aruvikkuzhi falls at its best during the rainy season.
Accommodation Near Aruvikkuzhi Waterfalls
There will be a lot of local as well as high end accommodation facilities in and around Pallickathode. You will also be able to find a lot of good resorts, lodges and hotels in and around Kottayam and most of them are equipped with the best facilities and amenities.
How to Reach Aruvikkuzhi Falls, Kottayam
Road: The nearest city Kottayam which is only 19 km away is well connected to the other major Indian cities through road network and hence it is easy to reach Aruvikkuzhi waterfalls by road.
Train: The nearest railway station is at Kottayam, which is 19 km away.
Airport: The nearest airport to Aruvikkuzhi falls is Cochin International Airport, which is around 88 km away.